May 5th, 2010
Advice given on the selection of color paint that should be used to refresh inside walls and woodwork or outside paint work.
Paint Color Selection
Paint Color Selection One of the most creative and personal decisions involved with interior or exterior paint projects is the color selection. Painting is a way for you to bring your favorite colors into your home, or outside of your home for that matter. Of course its true that not just any color will look good slapped on your walls, but it's still important to follow your instincts when selecting paint color. Using some sort of variation of your favorite colors and bringing them to your home is what gives it a unique personality.
interior or exterior paint
There definitely isn't a rule book about what colors you can or cannot use, but there are certain color systems that are appealing to the average eye. If you have an understanding of these systems, you can make the best decisions on the color choices that work best with your space.
Knowing the color wheel
The Color Wheel Knowing the color wheel will definitely help you understand color systems much better. The idea of the wheel is to show people how every color bears some relationship to all other colors. The color wheel is a tool to help you understand the relationship between colors. You can use it to choose colors that will look fabulous on your home. Work with it to create unlimited decorating schemes.
unlimited decorating scheme
Try Painting With Various Shades Most houses use at least three different colors: one for the siding, and two or more for trim and accents such as doors, railings, and window sashes. Darker colors are great for accenting recess spaces and window sashes. Lighter colors will highlight details that project from the walls surface.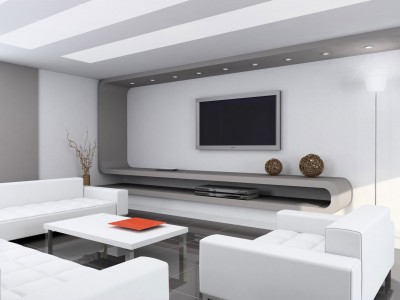 Painting With Various Shades
Ways to Assess the Color Environment » Look at the surrounding environment in which your color will appear. If you are painting the interior, look at the overall appearance of the walls and woodwork you will be painting, and also the furnishings in the room, and the hues in adjacent areas. When doing exterior painting, look at the fixed colors of your home such as those of the brick, stonework, and the roof. The most pleasing color treatments will be those that work well with these existing elements. » Keep in mind that your homes appearance is greatly affected by the appearance of neighboring homes and the colors of surrounding shrubs and trees. Avoid painting your home the same color as your neighbors. Also, use your best judgment about what tones to use. For example, homes in natural wooded areas are complimented with earthy tones. » Take into account the architectural style of your home. It is often pleasing to the eye when a home is painted in period colors. For example, Formal Colonial or Greek Revival homes look wonderful with white exteriors and muted interiors. Safe Color Choices Many homeowners are only interested making their homes appear neat and freshly painted. This is actually a very simple painting project because there are many color treatments that will look good on almost any home. Your best bet is to stay neutral and paint your walls a color such as beige, with the ceiling and trim white. In fact, by keeping the trim and ceiling white, you will be able to work with a wide range of colors that will look attractive on your walls. In the same sense, the safest approach to exterior painting is to use neutral colors like white or beige on the siding and select a darker accent color on the trim.
Leave a Reply